A gift from the weavers of Bengal who have been creating the versatile, beautiful, and useful cloth, called a GumCha, since at least the 3rd Century BC.
We hope that American Weavers and Fabric Artists find inspiration in this archive of unique designs.  Several more volumes of the GumCha Design Portfolio will soon be available providing hundreds of interesting patterns for study.
The GumCha Design Portfolio is the product of more than 2,000 years of design evolution in handloomed cotton by a community of Master Weavers in the rural areas of the Ganges River Delta.
2 ways to download the GumCha Design Portfolio PDF
Each volume of the GumCha Design Portfolio PDF contains high resolution photos that allow enlargement up to 1600% so that the designs can be easily studied.  While the portfolio can be easily viewed on a mobile phone (1st Way to Download), to thoroughly study the designs it might be easier to use a larger screen (2nd Way to Download).
Because of the high-resolution photographs, the PDF file is approximately 68 MB, so it may take a minute to download.
1st Way to Download
If you are ready to download the portfolio please click here:
Download Design Portfolio Volume 1
Use the button above to download Volume 1.  Because of the high-resolution photographs, the PDF file is approximately 65 MB, so it may take a minute to download.
Save the file to your hard drive.
OR
2nd Way to Download

If you would like to receive the download link in your email, please send us your address here: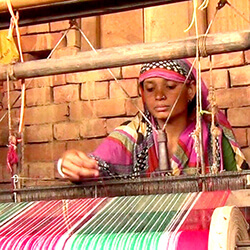 Expect to find something new and inspiring.
The designs collected in the Gumcha Design Portfolio come from a remote rural area and have been developed over generations in relative isolation from the outside world.  GumCha are a local product, produced for a local market, and have never been seen in the USA.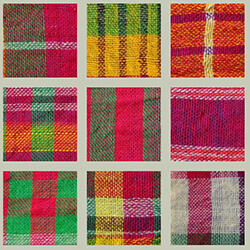 A GumCha is the original: cotton scarf, towel, hat, skirt, and air conditioner and are used by millions of hard-working people every day.  The GumCha collected in this portfolio are handloomed by rural farming families in West Bengal, India, from 100% Indian cotton.  GumCha are about 64"-69" long and from 25"-29" wide, yet only weigh about 4 ounces. There are over 10,000 distinct patterns and color combinations, and because they are handwoven, each GumCha is unique.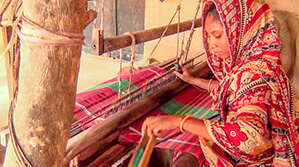 The anticipated publication date for Volume 2 is March 30, 2018.  Be be sure to sign up to receive announcements of new publications.
HERE
Original, Timeless, Contemporary, and Unique
Buy GumCha for $20 ea.
We ship for FREE from our office in North Carolina, USA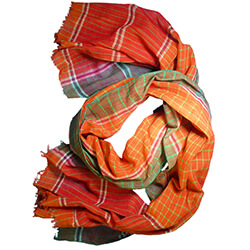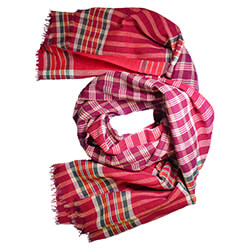 "I am so pleased to have received my order of GumCha scarves. I will be giving them as gifts to family and friends.  I think your GumCha project is very imaginative, and a wonderful way to raise money for your program while helping to support local weavers."
– SE, Washington DC
How to use the Portfolio
In each volume of the GumCha Design Portfolio PDF you will find high-resolution photographs of GumCha with corresponding design numbers, followed by high-resolution photographs of the individual design motifs that correspond with the design numbers.  These photographs can be viewed on-screen and enlarged up to 1600% so that the designs can be easily studied.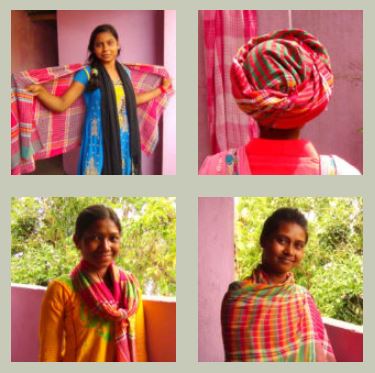 The Time for American Weavers and Fabric Artists to Act is Now to Help Save a 2,000 year-old Art Form.
A valuable artisan craft is at risk.
Drastic increases in the cost of Indian cotton during the past five years (due to increased trade with China, as well is the introduction of cheap machine-made polyester/cotton blends), have made it difficult for weavers to earn an adequate income from weaving 100% cotton GumCha.  Many families have been forced to stop weaving and find other sources of income, including becoming day laborers on construction sites far away from their homes and farms.  The difficulty faced by weavers could be a permanent result of the now-globalized Indian cotton market.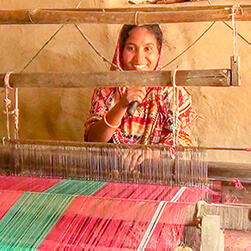 In a relatively small northeastern section of our District, around the village of Kashimnagar (within walking distance of the Ganges River), a survey conducted in 2012 counted over 3,000 farmer/weavers.
This area of West Bengal has been known as the home of master weavers since before the Third Century BC.  Subsistence farming economies in our area depend on cottage industries like weaving with a simple handloom to provide much-needed income for local families.
With over 50% of the people in the area living below the rural poverty line in households with per capita incomes of less than $.50/day, weaving GumCha has been an indispensable economic activity for generations.
In 2016, a new survey counted less than 500 active weavers.
An Opportunity for American Weavers and Textile and Fiber Artists to save one of the most enduring and vibrant traditions in handwoven textiles.
An industry of farming families supporting the economies of rural communities for thousands of years can be rescued. The solution is simple, just share the GumCha Story with others.
Origins of the portfolio
The GumCha4Health Project has, for several years, collected GumCha from local weavers in preparation for exporting them to the West.  During that time, the project has documented many of the various design motifs being produced.  Now, we have a large collection of high resolution photographs that will be published in succeeding volumes making up the collective portfolio.
We hope that you, American weavers, fabric designers and artists, use this portfolio to inspire your work and help us save a tradition in handweaving and design that has provided much needed support to farming communities and families in our area for millennia.
Explore the Many Designs We Have in Stock
Find Out What a Gumcha is and How They Are Used in Daily Life
Future volumes of the design portfolio.
Each family of weavers has between 6 and 10 designs they produce.  Each time the weaver loads her loom the design evolves a bit, and has for generations.  All together there must be over 10,000 different unique patterns and designs produced in our local area.
This will result in at least hundreds, if not thousands, of designs documented for archival use and study.  After downloading your first volume of the portfolio, you will be notified as each succeeding volume is published.  Each volume will be provided by the GumCha4Health Project for free for noncommercial use and you can share it with others.
The GumCha4Health Project
This project triples the income that farmer/weavers derive from weaving GumCha.  This of course is an immense boon to farm family economies, and helps ensure the survival of a valuable artisan craft that is more than 2,000 years old.
The GumCha4Health Project is a public health and economic development partnership of two nonprofit organizations, the Rampurhat Railpar Rural and Urban Health Training Society (RUHTS) (in West Bengal, India) and the International Federation for Family Health (IFFH) (in the USA).  We work with local rural weavers to produce and bring the GumCha to the American market.  The partnership has established two private businesses – GumCha 4 Health, Pvt. Ltd., in Rampurhat, India, to buy and process GumCha; and, GumCha4Health, LLC, in the United States to provide marketing, sales, order fulfillment, shipping, and customer support.
Please share the GumCha story and our GumCha4Health website with your friends, family, colleagues and others in your social networks.  By sharing our project with others, you will help the program and the people our project serves to grow and prosper.
The GumCha4Health project believes that we can make globalization work for small subsistence farmers/weavers.  By opening up new markets in the West, many hundreds, perhaps thousands, of farming families who have depended on their skills as weaver artisans to hold households and farms together can return to self-sufficiency providing handloomed GumCha.
Thank you for your interest and support.
Send your questions, comments, reviews and GumCha stories and pictures to [email protected]  They are much appreciated.
GumCha4Health LLC,
1127 River Forest Road
Pittsboro, North Carolina, USA. 27312
Please visit GumCha4Health.com to learn more about the GumCha4Health Project and follow the unfolding story.